A
NEW

shelter designed to ensure the well-being of our animals
The project to build a new shelter for the Eastern Townships SPA is part of the new generation of animal shelters that are emerging in other Canadian provinces and in the United States. The architectural design plan was the result of a long research process in order to build a shelter that would ensure the comfort and well-being of the animals.
This new space, twice as large as the old one, offers optimal living conditions for all its residents, in addition to providing twice as much comfort. The main objective of this project was to improve the conditions of care for the animals housed in the shelter.
In order to facilitate adoptions, the new shelter offers more friendly and warm adoption areas. All of this also serves to reduce the animals' stress levels and improve their quality of life.
Moreover, the experience for visiting citizens is all the more pleasant in this new environment.

BENEFITS

of the new shelter
Reduce stress
With its brighter, better insulated and more spacious areas designed to meet the needs of each animal species, the new shelter will allow for the expression of natural behaviors and the reduction of stress factors.
Improve quality of life
Indoor enclosures with an outdoor exit allowing dogs to run outside whenever they want, compartmentalized cages for cats allowing them more living space and better control of their environment, six catteries for climbing, playing and socializing: all these changes will promote the animals' comfort and well-being.
Facilitate adoptions
Friendly adoption areas and meeting rooms will allow for warmer interactions between the animals and their future adoptive family, while promoting thoughtful adoptions guided by qualified and experienced staff. Because it is important to get to know each other well before making a life-long adoption!
Support families
The new shelter is more welcoming and accessible for individuals and families who wish to develop a better bond with their animals; facilities dedicated to animal behaviour evaluations, a multifunctional room for conferences and workshops offered to the public etc. The Shelter is also located near public transportation at 145 Sauvé Street in Sherbrooke.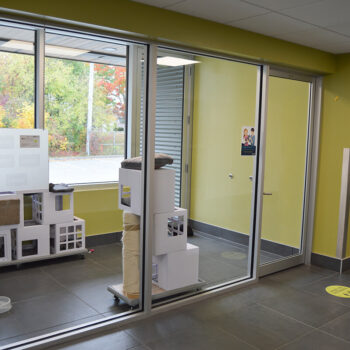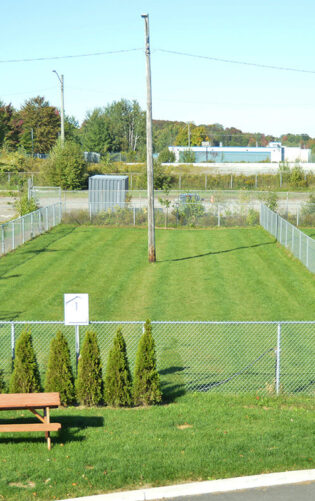 Maximize the environment
Built from recycled materials on a site specially chosen to avoid destroying the surrounding natural habitats, the new shelter is surrounded by landscaped green spaces to create shaded areas with trees and shrubs. It is also equipped with ecological toilets and compost, while its facilities follows biosecurity principles to avoid any contamination between animals.